© 1994

It felt nakedly brazen to be linking turns on the Wickersham Wall, a slope whose name is synonymous with avalanches. A slide now, while skiing in the center of the upper face, would carry me over 10,000-feet over cliffs and icefalls to a frozen, broken death. But we were confident in the results of our snow stability tests and I was having the run of my life, the culmination of every moment I've ever spent in the mountains. The higher power, grinning from ear-to-ear, had given us the nod. We got away with it!


The knee-deep snow, slow-mo superfluff (OK, a tiny bit wind condensed) glistened under a sapphire sky. The horizons left (500-foot ice cliffs falling forever into the Basin from Hell), right (a four-mile wide glacial shield of 100-foot seracs), and center (a mega-drop to the Peters Glacier and endless tundra) created the most awesome theatre I'd ever skied. I linked forty turns, the strain of which, at 16,000′, made my heart and lungs sore for hours. But it was worth it. It was our eighteenth day on Denali, and we had completed the essence of our goal: carving up, in good, freeheel style, all the skiable portions of the Canadian Spur on Denali's North Face.
Background
Success on the Wall had hardly been a certainty. Prior to the trip I was desperate for information about conditions. The list of those who had tried and failed, though short, was liberally spiced with experienced names. My boss, veteran guide Brian Okonek, warned, "Every time I've been on the north side of the Alaska Range in May, all the glaciers have been blown free of snow. Smooth blue ice. Good cruising for crampons." Breakable crust was the best I could hope for.
Brian's sentiment echoed dozens of other doomsayers, except he really knew what he was talking about, while most relied on logic to shoot down our bold plan. My partner, John Montecucco's brother, had wondered, "If all these famous, experienced, well–financed expeditions have failed, what makes you think you can succeed?" Likewise, on the sponsorship trail I met with cold rebukes and dubious support.

I flew north to Talkeetna in late April, just in time to attend a memorial commemorating the hundreds of mountaineers who have never returned from Alaska Range forays. I spent that evening getting to know Colby Coombs, a fellow guide with Alaska-Denali Guiding. In 1992 he lost two partners in an avalanche, then crawled alone for six days on Mt. Foraker, the range's second-highest peak. "Be careful," Colby warned, "I hear the Wickersham is notorious for slide hazard." Combined with reports of "ice everywhere" my sense of futility heightened. But amid the criticism and warnings there were a few glimmers of hope. Ted Fathauer, a weather forecaster in Fairbanks, buoyed my confidence by describing the winter as drier, but less windy than normal. His prognosis: "I wouldn't want to ski it, but it won't be blue ice."
Our ace in the hole was the beta I gleaned from Rick Wyatt and Evelyn Lees, the last human visitors to the route, who'd been there in 1983 for the same reason. Although the Peters Glacier at the base of the Wickersham Wall surged over 600 feet in 1986, we agreed that the Wall would remain essentially unchanged. Rick, a meteorologist, called it the "banana belt" of Denali, and reiterated as I left, "Oh yeah, I believe it's fully skiable." And he's been there. Bullocks to the naysayers—we go!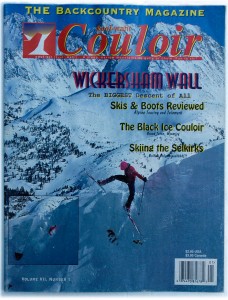 © 1994
Related Posts
Wickersham Wall – Pt. I
Wickerham Wall – Pt. II
Wickerham Wall – Pt. III
Wickersham Wall – Pt. IV
Wickersham Wall – Pt. V

This is a reprint of an article that was first published in
Couloir VII-1, Oct/Nov 1994.
Note: At the end of this introduction the reason why Bradley and Montecucco's achievement was inevitably disregarded by the mountaineering community came to pass when Adrian (Nature) Popovici skied it solo in 1998.

However, Popovici never made a big fuss about his descent either since he didn't ski the entire Wall "as a ball of snow would roll," but instead, skied the upper third in classic style (near the Harvard Route), then traversed above the broken and serac infested lower half and exited via the Canadian Route. It is, however, the boldest descent on record and the one that has been historically recognized as the "first descent" of the Wickersham Wall. Nonetheless, Bradley and Montecucco's story is worth telling again, if for no other reason than to spur interest in a true, complete, fall line descent of the Wickersham Wall.