© 1994

1994: May 11, Day VII of the approach
In clear weather we skinned across the Peters Glacier, trying to focus on the views rather than contemplate its hidden dangers. With only two of us on this checkerboard of crevasses we were nervous, the saga of Jim Wickwire and Chris Kerebrock always at the back or our minds. Roped together with sleds they had both fallen into the same Peters crevasse while accessing the Wickersham in 1981. Wickwire's shoulder had been broken, but he'd managed to climb out. His unlucky partner had been wedged into the ice by his sled falling in on top of him, a worst–case nightmare. Though Wickwire tried every type of force–reduction system he could, nothing worked. He could only talk to Kerebrock until his partner no longer responded.
Reaching the top of the Tluna Icefall, largest in the Alaska Range, we were thankful for Rick Wyatt's beta. We circumnavigated it on the northern periphery, side–slipping 1,000 feet of crusty snow pitched at 20° to 40° with the sled between us. Pausing on a rotten nunatak we gazed upon the wonderous scene. Before us was a creaking, crashing, dynamic jumble of immense seracs, the biggest, most inhospitable stretch of glacier I'd ever dealt with. But the real splendor loomed behind it. The Wickersham Wall, rising 10,000 to 14,000 feet, and averaging 35°, was awesome. And more significant to us than anything else was its hue. It was snowy white.
Finally past the Icefall, we thrashed our way along a rocky trough for a mile or so before stretching out by a lake for the night. Rockfall was incessant, and in the morning a microwave–sized boulder broke loose, missing camp by only ten feet.
May 12, Final day of the approach

A mile past the lake we fixed a line on to the glacier because its margins were melting and treacherous and John led north across the mile–wide Peters, weaving around obvious crevasses and dipping in and out of inexplicable divots and gullies. Finally at the base of the Wickersham Wall itself, at 5,900′, the feeling of impending adventure adrenalized us.
May 13, Day I on the Wall
Evidence of the glacier surge was obvious here. The Elephant's Trunk, which Wyatt and Noble had used to access the Jeffrey Glacier and the Canadian Spur, was severed. Instead we had to climb a narrow gully and skin up adjacent to the Trunk before we could traverse some dicey, crevassed ice and attain the Jeffrey Glacier at 6,400′.
A smooth start on the Trunk soon gave way to a heavily broken section. I led into it but found holes to the left and right, then one directly ahead, with a roof overhung like a Romanesque arch. Its mouth widened to 20 feet, while the throat dropped hundreds, deep blue to deathly black. The big blue room! I relinquished the lead.
While we traded duties, we also switched modes to skis and skins. John placed a screw on a bulge between the cracks before skinning over the intimidating crevasse. He led around to the left and hugged some steep seracs until the way opened up into a beautiful, wide avenue. Sweet!
Having overcome our first challenges on the Wall, we lunched in the sun, then continued skinning on the upper Jeffrey Glacier to the knife–edge Jeffrey Ridge, which delineates the lower western edge of the Wickersham Wall. John resumed the lead, testing holds carefully on the rotten, sedimentary rock formations. After two hours we arrived at the base of an ice cliff. I took over and enjoyed the 60° corner as crampons bit and axes grabbed. Placing two screws I finished the airy pitch with golden–orange 10 p.m. light filtering through the thinning clouds from the west. In retrospect, this was the crux pitch of the climb.
Atop the ice cliff was a platform, like a castle watch–tower, where we cached our food and fuel. Then we rappelled the ice cliffs, downclimbed the Jeffrey knife-edge, and skied back to camp at 5,900′, our tracks dust on a fragile, but rideable crust.
May 14, Day II on the Wall
With new-found confidence, the next day was easy money. We followed our tracks back to 8,500′ and established our camp at the watch–tower. A feeling of security and safety pervaded our immense solitude.
May 15, Day III on the Wall
Ascending from our tower camp at 8,500′, the clear, windless pattern continued. John led up the knife-edge, then we switched to skis and skins and continued through some crevassed country. On my lead we traversed to the avalanche-prone slope just above the Basin from Hell. A pit revealed 14 inches of light powder, well–adhered to firm old snow. Sheer was very difficult. Evidently the snowpack had been cured by time and developed a strong bond similar to what we often see in the Wasatch on north faces after prolonged high pressure. A major coup!
Switching back to crampons we ventured across a 40° slope beneath 300–foot ice walls 'til the slope backed off to 20°. Pleasant cruising on this apron led to a 'schrund. After considerable struggling for purchase in the loose snow above I pulled over it. At this point the steep, 30–foot–wide, 500–foot–high snow ramp we'd seen from the Peters Basin ensued. I placed a screw as the blue ice got closer to the surface. It was 45° and self-arrest would not have worked. After lunching on a bench, we frontpointed 30 feet of 60° ice to another apron at 10,500′.
I broke trail at a snail's pace through deep powder lit by the golden evening sun. On John's lead he wisely called for a mode change and we skinned—belayed—safely across the last broken ice problem of the Canadian Route. Here, at 11,200′, we found what we sought: a 'schrund, backed up by another, formed a wedge to theoretically force avalanches around, and an overhanging mini–serac provided the perfect tent niche.
We put the rope away in a raven-proof (heavy metal on top) cache, de–skinned, and headed down in shred mode. John made a few short turns, railed over a narrow crevasse–bridge, then crossed a short section of blue ice. I followed suit and the turning began. The ensuing 2,700–foot drop was a series of steep ridges followed by 20°, fifty–turn powder aprons. The steep sections were a new concept; powdered ice! Carving the first step of narrow ramp was sweet until it broke over to 60° and I purposely laid down on my side like a kid on a slide, stopping in a puff of soft powder on our lunch bench.

John tried to stick one more turn and fell. He began tumbling toward the edge of the Basin from Hell, but got it together with a classic, semi–controlled cartwheel into the powder. Dramatic as hell, but no damage, thank God. On the sustained 45° section below, where ice screws were used on the ascent, we found it possible to rip up the eight inches of powder without making unnerving contact with the blue ice underneath by weighting our edges with a feather-light touch. We were skiing technical water ice, a radical first for us! From here we both aired a 'schrund for 10 feet of drop onto another glorious apron of ego–fluff leading to more avy–prone steeps, then finished out with a score of turns toward noisome 500–foot ice cliffs that were perpetually shedding debris into the Basin from Hell.
Once back at our beloved castle tower, we soaked in the precious view of our sun-lit turns. Placed in the broad perspective, they were puny. The magnitude of the wall dwarfed our proud marks, but we felt honored to sign these headwalls and aprons, if only once, fleetingly.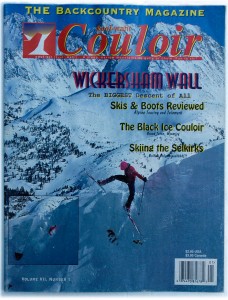 © 1994

This is a reprint of an article that was first published in Couloir VII-1, Oct/Nov 1994.
Related Posts
Wickersham Wall – Pt. I
Wickerham Wall – Pt. II
Wickerham Wall – Pt. III
Wickersham Wall – Pt. IV
Wickersham Wall – Pt. V