© 1994
1994, May 17, Day V on the Wall
One more perfect day followed before a cloud bank appeared and we narrowly escaped a whiteout on the descent from 14,500′ to the serac camp at 11,000′. Skins worked well on the ascent to 12,800′, where the Canadian Route becomes a knife–edge ridge dropping away at 60° into the Basin from Hell. This exposed, but relatively low–angle, ice climb led to the upper Wickersham Wall. After crossing an avy-prone corridor we cached under the marginal shelter of a single 'schrund at 14,500′.

The descent back began on 30° pitches of bluish saastrugi with breakable or ridable crust in between. At 14,000′ it rolled over to 40° and we laid down tasty, fall–line arcs to the narrows at 12,800′ while a cloud bank moved in.
Freezing in the wind and whiteout, we 'poned up, protected, and rappelled two ropelengths until sane carving could be resumed. The visibility improved as we shredded powder in parallel lines, linking 175 crescents on either side of our up–track until a wand marked a snow bridge. Here we traversed to our fester dome as the blood–red sun poked through on the north–west horizon. It was 1:00 a.m. By 4:30 a.m. we had made soup, hydrated, and devoured a life-sustaining cous-cous and lentil glop.
May 18, Day VI on the Wall
In one of our few disagreements I favored a storm/rest day, but John was adamant we should move up. He barely survived an avalanche on Bolivia's Illimani in '92, and the memory has leant a wise conservatism to his judgment. Above us was the nightmarish avalanche terrain that was the basis for The Wickersham Wall's insidious reputation.
We didn't want to be separated from our cache with deadly windslab in between so we broke camp as light snow fell and knocked out the apron smoothly. The narrows and rock rib also went easily, although the cold and blowing snow became increasingly fierce. I could scarcely decipher John's tracks as I stumbled along with fogged goggles half a ropelength behind.
When the altimeter read 14,500′ we knew we must be even with the cache and our 'schrund campsite. But in the absence of wands, how would we find it in this whiteout? Luckily I had marked it with a black duffel bag attached to a 10–foot probe pole which John spotted.
Relieved that a potential epic was averted, we clipped to pickets and began shoveling. Even before we finished pitching the tent, the first of four powder avalanches swept over us. We cleared the platform, got settled in, and began running the stove. Another 'lanche came barreling down and the poles buckled under the weight. Before either of us could get out to clear the snow, yet another slide blackened our world even further. Amazingly, the tent didn't collapse; none of the poles even broke.


May 19, Day VII on the Wall
The harrowing night gave way to a calm morning and we looked out upon two feet of wind-pillowed fresh snow. We weren't moving for love or money that day!
May 20, Day VIII on the Wall
The snow settled and we saw no signs of slide activity by midday on the 20th so we decided to escape. Half swimming, I traversed to the rock band, hoping and praying that today was not my day. We cached in the rocks and climbed a pink-white granite rib. At 15,600′ the angle relaxed, the rock line dissappeared, and our avalanche fears returned. Expecting a short haul to the wide summit ridge and intersection with the Northwest Buttress at 16,600′, we donned skins, but the laborious trail–break took hours. The cumbersome load, minimal oxygen, and dense, encrusted six to 18–inches of fresh snow worked us.
A general pissy mood was overtaking us, but we carried on, reaching numerous false horizons, the ripping southwest wind causing periodic spindrift whiteouts. Eventually the surface flattened and became heavily sculpted saastrugi. Finally we were getting close, but the altimeter already said 17,000′; the pressure had obviously dropped and the resulting error screwed up our psyche. We stopped, dug in, and began another all–night cooking odyssey.
May 21-23, Days IX-XI on the Wall
After a rest/acclimatization day at 16,600′, we dug pits and made ski cuts to evaluate the avalanche stability, then skied phenomenal conditions to retrieve our cache at 14,500′. Another wind-enforced rest day followed, and we were chomping at the bit to make a summit bid.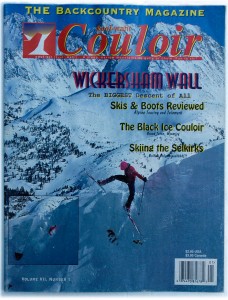 © 1994

This is a reprint of an article that was first published in Couloir VII-1, Oct/Nov 1994.
Related Posts
Wickersham Wall – Pt. I
Wickerham Wall – Pt. II
Wickerham Wall – Pt. III
Wickersham Wall – Pt. IV
Wickersham Wall – Pt. V