There was a demo day put on by WWSRA (Western Winter Sports Retailers Association) for northern California at Alpine Meadows earlier this week (Mon. – Tue., 7-8feb12). This worked out to be a more cost effective way to sample next years offerings for those looking to get an out of bounds passport.
The word is out that fresh tracks can be had by anyone on almost any given ski day if they're ready to venture into the borderlands surrounding the resort. Jumping out is easy, but everyone knows it takes a bit more effort to get back in bounds, made easier with a pair of climbing skins and a free heeled binding.
Next year there are plenty of good offerings in the binding department with over 12 plate bindings (Marker Duke/Baron, Tour F12/F10, Salomon Guardian, Atomic Tracker, Elan Adrenaline, Head Adrenaline, Fritschi Diamir Freeride Pro, Eagle, and Scout, plus a plate binding from Hagen) and almost as many tech bindings with hints of a surprise entry from a French company, so be on the Look out. It is doubtful this free heeler would be able to distinguish much between bindings with training heels, however, Ski the Whole Mountain author Eric DesLauriers confirmed my suspicions about the Salomon Guardian – its downhill performance is indistinguishable from Salomon's high end resort bindings.


New Backcountry Boots for 12/13
Though the subtleties of downhill performance with training heels may elude me, boot and ski performance is relatively easy to evaluate. I managed to get on four different AT boots for next season – Tecnica's Cochise Pro Light, Dalbello's Sherpa, next year's addition to the groundbreaking Virus, a pair of Lange XT's, and one of Black Diamond's new Free Tour boots, the Prime.
Black Diamond's Prime
was over sized for my foot so I can't comment much on that boot for comfort. It had plenty of power for driving any practical width backcountry ski. Of the four boots I tried today, surprisingly it had the least amount of rear cuff movement in walk mode. It was a solid improvement over many AT boots on the market, but felt like it had less range than even Lange's XT.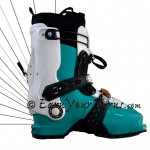 The Dalbello Sherpa was the clear winner for rear cuff movement in walk mode. Part of that is due to the hinge mechanism of the Sherpa, and part is due to how easily the top buckle can be released to allow more movement inside the cuff. The top buckle opens a full 180 degrees and then can latch in the position so the cuff opens wide at the top, but the buckle remains attached so it doesn't flop around. The two sides of the lower buckles meet in the middle, instead of off to one side, allowing you to open up the tongue so you can easily slide your foot in or out of the boot. The liner is a pre-lasted, thermo-moldable Intuition liner that fit pretty well out of the box. Even with the 97mm wide toe box there was plenty of wiggle room and my instep was easily held down, keeping my heel in the pocket. Walking in the Sherpa's was a delight, although to maximize leg flexion you need to also loosen the middle buckle a bit. In ski mode they provided plenty of driving power and they come standard with Tech fittings.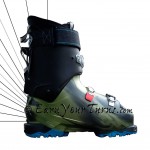 Tecnica's Cochise Pro Light (3-buckle) uses a Palau liner that is thermo-moldable, but not pre-lasted. Out of the box fit is not a strong point for the Cochise. Freedom of movement for a long skinning stride and walking comfort are. So too is the downhill control available from this stiff, light, 3-buckle powerhouse. Plus it comes with Tech fittings.
Between variations in shell stiffness from 130 to 90, 3- or 4-buckles, men's and women's versions there will be nine Cochise models to chose from next season (12/13). Prices will range between $500 – $750.

For out of the box comfort, the Lange XT won the day hands down. That may not be a fair comparison since I have a 'Lange foot' and therefore was a Lange advocate prior to learning to earn my turns.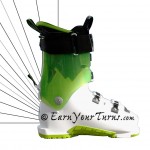 In fact, my first backcountry boot was a pair of Lange's, and they were even the same model name – XT. No matter how much things change, some things never change, eh? Except back in '81 the XT was a race boot. Trust me, those were not optimized for backcountry, but they made moguls fun with Ramer bindings. Now, 31 years later the XT is optimized in the race for first tracks and it may win a few of those unofficial races next year, if not on the up, certainly on the ride back down.
The comfort of the XT only added to the sense of absolute power and control when skiing these boots. They didn't feel like a compromise for much of anything, except a tad more weight and lack of Dynafiddle compatibility. Even the walk mode was comfortable, as long as you released both cuff buckles.
There will be six models of XT next season with different flex stiffnesses, metatarsal widths (100mm or 97mm), and gender versions. If Lange backs this boot with some solid marketing they could make believers of back- and sidecountry skeptics, plus a few retailers too.
There were a few other boots I wanted to get on but they weren't available at this demo. Most noteable was Garmont's new Cosmos, one of their new PowerLite™ series that features a cuff with a walking range of motion on par with Scarpa's Maestrale or Dynafits TLT5. It was there, but only as a single boot, not even a full pair. Nor were Scarpa or Dynafit visible, but their performance is well documented at WildSnow.
Note: In each of the pictures of the boots above they were taken with the boot in walk mode and actively flexed backwards with my foot in the boot. The boot and backgrounds were cut out in Photoshop and the angular grid added to show the actual rotation back relative to a vertical line that intersects the cuff pivot, based approximately at the bottom of the heel. Shown this way the differences are very slight. In practice, a few degrees of difference feels like ten. (Click on any image to enlarge)
Related Post:
Preview: Lange XT for BC
© 2012