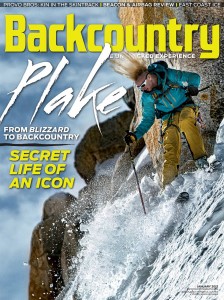 Nevermind that they were once my competitor, then a suitor, and for a short spell, a partner. While some might say that lacking any competition prevents calling them the preeminent mag on the subject, I say that's a shallow argument overlooking the amount of space or depth that other snow publications devote to the subject. Over time Backcountry magazine has evolved into a solid representative for the backcountry skiing community and those who know me know this is not a casual admission.

The evidence, however, is irrefutable with the current issue now on newsstands. Within the space of 102 pages the Height of Land team manages to pack enough ads to appear not just solvent, but profitable. While some may lament the space devoted to ads I can assure you, those are not a detraction to this curmudgeons eyes, especially when they all reflect the spirit of earning turns, even if it is just a catchy slogan to get you to buy their gear. After all, some of the gear makes the experience better, and some is just plain necessary to be a backcountry skier, like skis, free-heel bindings and skins.

Now I know most of you could care less about the ads, but trust me, without 'em you'd have to pony up $25 an issue or $100 a year to get this level of glossy quality and that would simply be the end of a print publication devoted to our fave sport.

Here's the real reason why this issue represents a coming of age. Packed between those annoying ads are some words with meat that talk about what this sport is really about, not just braggadocio from illiterate punks (although their enthusiasm is embedded between the lines).

Biff America continues to reflect the soulful reality of how backcountry skiing imparts lessons for everyday life as he shares how lucky we are to do what we do and live to tell it. We can all relate to this quote…"one look at the headlines is all it takes to alert you that bad things happen to both good and cautious people."

Is he talking about skiing or life? Is there a difference?

Andrew McLean's insight is razor sharp as usual. In offering advice for a newbie on how to learn to love the uphill part of earning your turns he accurately states "it doesn't have to be fun to be fun." You have to read it to really "get" that, but I'm sure those of you who know are already nodding in agreement.

One of my fave authors, Peter Kray pens a short piece on Critical Thursday. Like fish and family, spending more than a few days together in the backcountry (or anywhere) can make for some, uh, memorable experiences. As ever, Peter tells it better in print.

On the techno side Lance Riek does an excellent job of laying out the options for avalanche safety equipment, from beacons to airbag packs. The explanations are admittedly sparse, but print does have limits and he does a great job of zeroing in on the salient points in the space provided. I also tend to agree with his conclusions, more than less.

The article most of will leap to is a profile of Glen Plake. Anyone who has ever encountered Plake knows he is a skier through and through, and an amazingly buoyant spirit besides. His laugh is as infectious as his enthusiasm for skiing is. Tyler Cohen reveals that Plake's interest in skiing has roots deep in the backcountry. That's no surprise to you and I, but a worthwhile read nonetheless that confirmed suspicions you may have had about skiings most visible icon, just as it did mine.
Simon Peterson does a stand up job of weeding out the chaff and serving a small but savory serving of eye candy. And even editor Drew Pogge gets a bit vulnerable as he shares the love of his life and, surprise, it isn't snow crystals but the woman he has chosen to enjoy them with. Plus a few other worthy reads but no point in spoiling the whole mag by revealing the entire table of contents.
My only complaint? It's only 102 pages long but I know the blame for that isn't with the publishers or editorial team.
Overall a solid read and a good reason to support Backcountry Magazine if you haven't done so already.
Git some
here
.
© 2012