Note: This story was first published in Couloir magazine XIX-5, Spring 2007. It was the beginning of a new life for EJ that began nine years ago. He is working on writing a book about what has happened since, and the lessons learned. To support him in this effort, go to http://www.gofundme.com/ejpoplawski. In the meantime, read on to find out how it all began…
---
During the first four days at the hospital I kept waking up and asking over and over
, "What the F#*% is going on?"
"You are in the hospital. You were in a bad ski accident and, unfortunately, they had to amputate your right leg above your knee" came the reply from my mother, father, sister, or brother-in-law — whoever was by my side.
They would do their best to explain that everything would be all right. And I would mumble something about my sadness, disbelief or anger, then promptly fall back into my drug and pain induced state of semi-consciousness, not remembering anything they had just told me.
I think I just didn't want to believe it and passed it off as a bad dream. Or maybe the concoction flowing into me through the IV was making it impossible to remember. I can only imagine how hard it was for them to have to break that news to me again and again, wondering if something else was wrong with me.

When I finally woke up after the last surgery, it wasn't a bad dream. This was real!! My right leg was gone! How could this have happened to me?
The Chain of Events
I know exactly how this happened. It was the result of a long Chain of Events that lead from one chance occurrence to another with some conscious decisions mixed in along the way. This would probably be a pretty good definition of Life. And the thing about Life is you really don't know what is going to happen next. We all like to think we have complete control over our lives, but when something like this happens, you realize how quickly that control can be taken away from you.
My parents moved from New Jersey to Vermont to be ski bums, and I was born and raised there. I was forced to learn to ski when I was 2 ½ years old. At 3-and-a-half, I broke my right leg. I was afraid to ski the next season, but my sisters and parents insisted, and soon I was the kid you see going 30 mph in a snowplow not making a single turn down the entire hill.
I started ski racing, then snowboarding, and in college I tried telemark skiing. My sister Deonne had started telemarking, and I thought it looked cool. Her husband had boots and skis that fit me. I tried a few times each winter, never completely getting the hang of it.
After graduation, I worked for a year in Washington D.C. But I quickly realized I did not want to sit in a cubicle forever. I very badly needed mountains in my life again.
Switch to Tele
Like countless others, Snowbird and Alta lured me to Salt Lake City seven years ago, first as an engineer and then a full-time ski bum/carpenter/contractor. My first season I alpine skied. The next winter I started to alpine ski with a bunch of telemark skiers who absolutely ripped. They were doing things I never thought possible. Called, "The Tele Posse," they included Andy Hunter, Damian Dennison, Brian Murtland, and Gin Chao. They opened my eyes to what was possible on tele skis.

I bought my first pair of used Scarpa T-1's along with a used pair of Targa G-3 bindings from a local ripper named Josh Johnson. On a pair of Rossignol Bandit XXX's that had been my alpine skis, I tried to follow my new friends. The first few days I didn't have a chance, but it wasn't too long before I could haphazardly "almost" keep up with the Tele Posse.
The next five years went by in a blur. Along the way I made a ton of great friends, fractured my pelvis, tore my right ACL, broke my nose, and started entering Extreme Freeskiing Comps.
Fast forward to March 25, 2006, Crested Butte, Colorado. Crested Butte is extremely rocky and steep. Anyone that has skied there will tell you. It isn't a place were you want to lose control.
The Crash
The year before Crested Butte had a good base and lots of fresh snow. This year they didn't. Rocks were showing everywhere. It was here on March 25th, 2006 at the 10th Annual Crested Butte U.S. Extreme Freeskiing Telemark Championships, that my life changed forever.
On the second day of the competition, I was in fourth place after the first two runs. I knew I was within striking distance. I finished fourth the previous year and didn't want to repeat that. The plan for my final run was to ski the Body Bag Chute, which has a double cliff drop at the bottom. When it finally was my turn, I had AC/DC "TNT" cranking on my I-pod and I was ready to go. I hit all my airs and skied fast, fluid and aggressively down to my final feature, the double drop at the bottom of Body Bag.
I landed the final air just about perfectly, a little bit in the backseat, but well enough given the hard pack conditions. Unfortunately, my old pair of skis couldn't handle the impact (I had bent my good skis the day before). My left ski, which was my downhill ski, broke right at the front of the binding. I had ripped the bindings out of this pair of skis the year before and remounted them using T-Bolts. This proved to be the weak point.
I immediately lifted my left ski off the snow to prevent myself from going over the handlebars. When I did, the ski folded under itself and continued to drag on the snow. Skiing only on my uphill ski with my downhill ski dragging, I tried to navigate myself through my landing zone. I went below a large pine tree and tried to carve above a cluster of small Aspen trees. I wasn't able to carve high enough on my one ski and ran straight into one of the trees.
I hit a 3-inch diameter tree with my right shin like it was a slalom gate at about 35 mph. The impact immediately destroyed my right knee and dislocated my right shoulder.
I was in the most excruciating pain I have ever experienced. I knew I was really messed up, but never imagined how bad it actually was. I don't think anyone, including the patrollers, knew how bad it would be.
After what seemed like an eternity they finally got a sled to me. They brought me the 200 feet down to the finish line then put me on a backboard and refastened me into the sled. All the way to the base of the mountain my body recoiled in pain from every single bump.
In the clinic, they gave me some pain killers, X-rayed me and didn't find any broken bones at all! They relocated my shoulder, which immediately relieved some of the pain coming from that area. My leg however felt like someone had ripped it right off me. I wasn't able to move my foot at all. Finally, after more than two hours one of the nurses checked my foot for a pulse. I remember her saying, "Oh no!" It was only then that they realized that my foot had no pulse and therefore the Popliteal artery, which goes through the knee, must have been damaged.
That's when they tried to get a Life Flight helicopter. But all of them were busy on other rescues. So they put me in an ambulance and drove me to Gunnison, Colorado, more than 45 minutes away. Every bump in the road rattled through my body with shock waves of pain. I begged for more drugs but they said they couldn't give me any more.
In Gunnison they put me on a Life Flight airplane. At this point, they were able to give me morphine and put me under. They flew me to Denver, then transferred me to a helicopter and flew me to Denver Health Hospital. More than seven hours after my crash I was on the operating table. Just about all of the blood in my body was now in my right leg. This is called compartment syndrome.
Later doctors told me that I was less then 10 minutes from being dead!!! They pumped 10 units of blood into me and started emergency surgery to try and save my leg (I am guessing this is when I contracted Hepatitis C).
Dealing with the cards dealt
On Thursday morning, after almost five days of lying unconscious, I awoke for real. I was told that same story they had kept telling me. This time, it all came back. I was devastated. The first thing I told my mother was, "I don't want to live anymore."
I think this was a normal reaction. But I soon realized it wasn't an option. I still had my life; I still had one good leg, and I would have to make the best out of the situation.
My coming to terms with this situation took a very long time and in some ways it is still an ongoing process. For many weeks I would break down into tears just at the thought of what happened. I think this was crucial for me to be able to move on. My family and friends were also crucial; they gave me the encouragement and support to get back my "Can Do Attitude."
I have also received an enormous amount of support from total strangers. A blog was started on the website Telemarktips.com under the title "Get Well E.J." Friends and strangers alike posted endless support and encouragement. In addition, Mitch Weber, who runs the site, started a fundraiser to help me with the financial burdens. Several other fundraising efforts where organized by my friends and family to help me through this first year of recovery.
Many Friends visited me in the Hospital during the 11 days I was there. They brought cards, food, candy, and best of all, a picture taken on the Snowbird Tram deck with about 50 of my friends holding a banner that said "We Love You E.J."
Receiving this picture was the turning point in my mood. I stopped sinking and started pulling myself back up – or rather my friends started pulling me back up!
Probably the most crucial inspiration I received was from another Above Knee amputee named Jarem Frye. Someone sent me a video that he put together of him using a prosthetic knee that he designed called the XT-9. In the video he was Telemark skiing, Snowboarding, Wakeboarding, Skateboarding, and Rock Climbing!!!! I was blown away. I had no idea that was still possible. It was at that point that I had "HOPE" again. I knew that "If He could do it, well, then I could do it" Right there and then the future looked much brighter.
I am doing really well now. I've been busy with lots of Physical Therapy and Rehab. Unfortunately, I had to have another shoulder surgery in September. If it wasn't for that, I would be skiing right now. I originally wanted to go back and compete at Crested Butte this spring, but will have to wait till next year.
I can't wait to ski again. It's hard to sit a season out because of a shoulder!
When I return, I plan on skiing alpine with one ski and outriggers, and for telemark skiing I will be on two skis. I will be using a Prosthetic Knee that has a suspension system similar to a full suspension mountain bike. The knee was designed by an amputee named Jarem Frye. He designed it specifically for telemark skiing and is the only above knee amputee teleskier in the world – at least for now!
So that is how I ended up where I am. You never know what is going to happen. Life keeps throwing curve balls at you; sometimes you duck, and sometimes you get hit. I think that the key is to just make the best out of any situation. I know my life is changed forever. My right leg is gone. Nothing I can do will change that. But instead of looking back, I would rather think about what I am going to do in the future. I have no doubt that I will do all the activities I used to do before. They may be more challenging, but if you look at it the right way, "Challenges Are Fun!" I will be back on my Tele skis, my Mountain bike, my Dirt bike, my Snowmobile, and who knows what else. After all, only YOU decide what YOU can and cannot do.
© 2007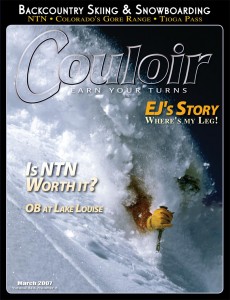 Note: This story was first published in Couloir magazine XIX-5, Spring 2007. It turns out, it was but the first chapter in the story of EJ Poplawski's life since then. He is working on writing a book about what has happened since, including the fallout from contracting Hepatitus C, and the lessons learned. To support him in this effort, go to http://www.gofundme.com/ejpoplawski
Editorial note: Some changes have been made to the original article for accuracy like the spelling of names, when morphine was first administered, and the name of the prosthetic EJ uses to telemark ski.