The prospect of locking your heel for skiing is a nice option to have. Most times I'd rather switch between a pivot for skinning, or tele-resistance for turning. When it gets steep though, I like having a locked heel. Nowadays the angle of slope that I prefer a locked heel on is less than my age — which is admittedly getting pretty steep.

Nonetheless, I don't spend enough time pushing the limit of how rad I can be to be compelled to need a locked heel on most days. And I love the flexible soles of a teleboot. But the range of cuff motion and the weight of the new breed of alpine touring boots is seductive enough to make me consider sacrificing the option to tele just for the comfort these new AT boots allow while skinning. Heck, that's part of why I prefer tele over alpine and the TLT5 is outclassing plastic tele boots without even breaking a sweat.

The epitome of this new touring class, the one that has redefined the limit of what is possible is Dynafit's TLT5. It has spawned its own series of boots from an even lighter race version to the Vulcan for charging with some muscle, all built on the ultra limber TLT5 cuff. You may think the TLT5 is too spartan. Unless you have rando blood in you, that's probably true.
However, from a pure touring performance VS downhill performance perspective, where you realize most of the day is climbing, having a good walking boot can make a huge difference. Need I remind everyone that resistance is futile, a lesson some telemarkers still don't seem to understand based on their apparent unwillingness to see the advantages of a free pivot – especially when the game is about mobility.
My point is, the TLT5 is so good at walking mobility it shames the offerings from the tele world. It is not a stretch to consider a boot like this for tours with something like a Vector BC – a wide waxless metal edged ski. Lots of folks use the Vector BC's with dynafiddles and they love the combo.
To put a number on how much range of motion the TLT5 provides isn't quite fair since the actual range of motion you can get behind having your lower leg vertical depends on other factors like how loose/tight the upper buckle is, whether the reinforcing tongue is in or out, and how flat your skinning angle is. Suffice it to say, it is currently king, and without any resistance the cuff opens backwards more than 30°. So you have that much latitude to take advantage of.
A less obvious part of this equation is that the plastic cuff offers little to no pivot resistance, so backward resistance is all due to the range you allow by the settings on the top buckle, and the inertial resistance of the liner. There is no cuff post to slide along, or bind on.
To reduce the flex resistance inherent in the liner, Dynafit helps out by making the zone above your Achilles heel with a patch of softer material. It is nice for skinning, but it provides a seam that could tear and it is showing wear after about 30 days use.
In addition to practically eliminating the flex resistance of the cuff for a long stride, the tongue can be quickly removed as well, further enhancing walking mobility.
Besides all that, Dynafit added a smidgen of tele flex in the sole. When you combine that flexibility with a toe sole that ramps up 5° the result is a fairly natural walking gait on dirt or pavement. Better than a good number of tele boots – although to be fair, a good chunk of that is because of how light these boots are.
Made with a Grilamid lower shell, pebax cuff, removable tongue, two buckles and no rear heel cuff post the TLT5 weighs in at a svelte 2 lbs. 10 oz. (1.19 kg) per foot (sz. mondo 26.5). Add a pair of Tech bindings and a light ski and you might even be able to get away with only carrying four or five pounds per foot. For the majority of rigs out there add another four pounds minimum, which is nearly double. Some, of course weigh in at more than double, but tanker rigs like that are for young newbies who think it's important to huck your way to fame.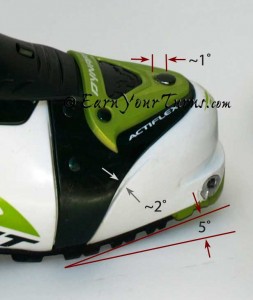 Is there anything to not like about the TLT5? As you would expect, all that uphill performance does not come without a sacrifice somewhere, and that is certainly the case for the TLT5. I was made rudely aware of that when I headed out for a tour with the TLT5 with Stoke skis. The descent was through a field of frozen chicken heads with a 2cm dusting of fresh. Cold enough to be hard and I found myself being easily deflected. It didn't help that my instinctive reaction was to drop into a tele, which put my weight rearward and made me more of a target as the chicken heads forced me into an awkward cadence of reacting to being richocheted like a pinball for the first half of the descent. Then I overcame the tele reaction, drove my knees forward and managed a decent survival descent until I found softer, smoother snow. I'm certain that if you used the TLT5 all the time and logged some time in-bounds honing your skills in crud you would find the TLT5 to be plenty adequate for most any backcountry descent. That was, in fact, my experience when I went back and took a few warm up runs. The funk and junk was still a challenge, but what light weight system has ever slayed hard pack crud? Once things weren't so edgy, the TLT5 was plenty of boot.
I don't think you need to be a rando racer to appreciate the speed and integrated functionality of the lone cuff buckle. It adjusts for size at the front, but uses a long throw buckle that swings to the back of your leg and locks the cuff position for the downhill. That long throw allows for a huge change in cuff diameter at the top, yielding a lot of mobility with the flip of a single buckle.
The shells for Dynafit boots change on the half size, so if you normally fit a mondo 28.0 or 28.5 liner, you'll probably be looking at the 28.5 shell. Overall the shell looks narrow, but there appears to be plenty of room. I had to thermoform the liners to my foot, but the shell, even though it is the smallest length shell I've ever worn, had plenty of width to let my toes wiggle. The single buckle on the lower shell felt well placed, still holding my foot securely even as the only buckle when touring. I have a low volume instep and that usually takes an additional dedicated instep buckle to hold in place, but the TLT5 did fine. Thus, if you have a high in-step, this might be too small of a boot, or you need to get a larger shell than you might normally get.
Most people would rather have a bit more meat and take a compromise on weight and rear flexibility to have more control when skiing. For that Dynafit's One is probably a better option. But if you have some rando in your ski genes, TLT5 deserves a very close look.
Dynafit
TLT5
Price: $750
Weight/boot (sz 27.5 mondo): 42½ oz. (1225 g)
Sizes available (mondo): 23.0—30.5
© 2012