As soon as I opened the door I was faced with an unexpected decision. Continue forth with the plan for a workout at the pool, or open the box in front of me that surely contained Mark Lengel's Telemark Tech System binding and give it a quick test run.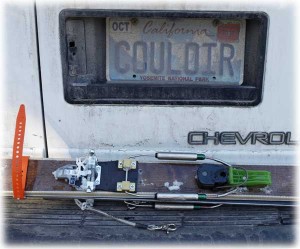 A sweaty skin up the Couloir Office Run in the sun sounded better and besides, Pepper needed more than the minimum walk she had received this morning before I hunkered down with the computers. I dusted off my TX-Pros for their first use of the season, grabbed my pack and headed for the neighborhood hill (which, by the way has become a rather popular place to make turns this season).

The TTS binding uses a Dynafit (aka Tech) toe with a classic compression spring cartridge style telemark cable assembly that latches to the heel of the boot. It only works with NTN boots that have Tech fittings. That limits it to four boots for now, Scarpa's TX, TX-Pro, the F1 and F3. I'm leery to believe the F1 or F3 would work well in this rig as they were not designed to perform deep flexing telemark turns, just provide a flexible sole for a more natural stride while skinning. However, Mark Lengel says several of his beta testers regularly uses Scarpa F3 boots and their experience indicates that within a few days of use the bellows soften enough to permit smooth tele turns.

Crispi says they plan to add Tech fittings to their Evo and Shiver boots next year in both mens and womens versions. If true, that means a choice of at least four models for men, two for women, in Fall 2011.

First Impression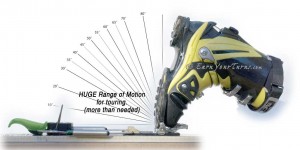 So how did the TTS perform? Flawlessly on the uphill. I've never spent any time skinning with a Dynafit binding but the only restriction I felt to range of motion was the unwillingness of my boot cuff to allow my leg to bend backwards much.

Did I feel the difference in weight?

Not really, but then you have to keep in mind my go to rig, a pair of Atomic RT-86's with Voile Switchback bindings is lighter than a pair of Ski Trab Stelvio's with the TTS binding by six ounces per pair, or a ¼ pound per foot. However, if you just stick to comparing binding weight a pair of TTS bindings are about ¾ lb. lighter than the Switchbacks. That's enough to be noticeable, especially on a big vertical day.

How about turning?

This is a very active binding. The effective pivot point is a full 7½ cm (almost 3") behind the toe of the boot. By comparison, Axl #1 is 3cm back, Axl #3 is 5 cm (1.75") behind. Simply based on that data this is the most active telemark binding I've probably ever skied. It reminded me of the 2nd generation NTN binding from Rottefella, which was so stiff telemark turns could only be performed with difficulty.

As with that 2nd generation NTN binding, a huge part of the problem was the boots. Back then, the bellows flex had been stiffened up to help prevent toe-crunch. In this instance, the TX-Pro flexes soft and smooth, so flex was not the problem, but the fit was. The liners I had in the TX-Pros felt too tight so I swapped in the liners from my T2X's. Those felt more comfortable on the climb, but I was swimming in 'em for the descent. If I just lifted my heel to start a tele turn, my foot would simply rise within the shell putting me in an unbalanced, fake-a-mark position.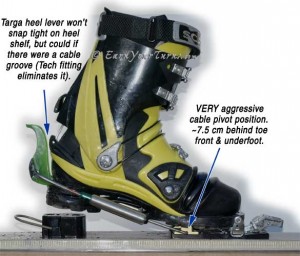 Besides the boot, the cable didn't exactly latch on to the boot with any sense of security. There was zero pretension. The Targa heel lever wouldn't snap tight when placed on the top of the heel step. It was designed to work when positioned in the classic cable groove found on 75mm telemark boots, but that was blotted out with the Dynafit heel plate. It was loose enough that it took a few degrees of heel lift before the springs began to load the cable but the heel throw never came off. In addition the G3 springs exhibit a progressive compression rate which quickly overpowered the Stelvio skis they were on and magnified the lack of control from a sloppy fitting boot. Combined with wind sculpted and hardened sastrugi interspersed with a grippy, overcooked surface layer the descent became an exercise in survival skiing. Time to make some adjustments before giving the TTS binding another whirl.

Better results to come, hinted at in my tease of the TTS binding (note the tracks).

Related Posts:
Day 2 with TTS
Verdict on TTS
Faith required w/TTS
Review of TTS v2.0

© 2011