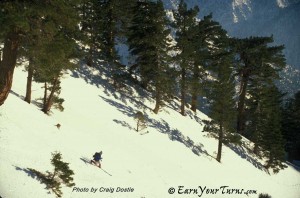 The original attractions of telemark skiing, 35 years ago, were the freedom of motion it promised with simple technical means, the comfort and hikeability of the boots, the ease of carrying the skis on typical Northwest routes in summer, or Southwest desert routes in winter, the relative safety provided by floppy boots and free heels, and, not least, the surprising skiing power in difficult snow (even by locked heel standards) provided by the telemark turn in its many variations.

"Progress" since then has generally meant wider skis, boots that have grown heavier and stiffer to match the skis, and bindings that have grown to withstand the demands of the stiff boots.  All well and good in terms of matching locked heels at the ski area, but in the process the light weight, hikeability, ankle flexibility, ease of touring, and relative safety have all been sacrificed.  It's no surprise that AT in its light Dynafit garb has more than matched heavy tele in popularity.
 

I am not much interested in either heavy tele or AT. There is another way.  For the seasons of 2009 and 2010 every backcountry tour I did used a single set of boots and skis – Salomon XA8s and Madshus Glittertinds (with Salomon XA step-in bindings).  I had used Glittertinds a few years before, but gave them up when Madshus stiffened the flex of newer skis.  This time I bought the skis relatively short, 190cm, hoping that the flex would be softer as well.  I had no large expectations, but unexpected benefits came with the shorter length.  
Glittertinds are skinny skis, 68-55-62 mm, hence completely unrelated to the popular skis of the day.  They have a near uniform flex, enabling them to be bent smoothly and easily into reverse camber, which permits them to turn smoothly in difficult snow conditions.  
Glittertinds depend entirely on their flex for their good downhill character.  They, of course, tour well, by kick and glide, or even by skating in favorable conditions.   No fat ski can match the pleasure of touring with them on mild terrain.  The XA8 boot is well mated with them, enabling good edge control while retaining free ankle motion fore and aft.  It has proven reliable in use, comfortable, and warm.  
The step-in binding is light, simple, and convenient.  The whole combination ski+boots+bindings weighs 4.6 kg or 10 lbs for the pair.  
My thought when buying the Glittertinds was, "I'll use them as long as they're fun to ski and as long as I'm still learning how to use them in different snows and terrain.  I'll quit when they fail to work well."  It's amazing to me that it took such a long time to find their weaknesses.  
I live in the Pacific NW, on the west side of the mountains, meaning I have to deal with a wide range of snow conditions.  How can a skinny ski like the Glittertind deal with deep, wet snow, stiff snow, or breakable crust among the difficult skiing problems?  There is a way that works extraordinarily well.  The idea is to initiate the turn directly into the fall line, then telemark out.  The Glittertind has very little sidecut and will not turn by itself unless it is weighted and reverse cambered.  Difficult snow usually translates as hard initiation of turns, even with shapely skis.  The straightforward solution is to just pivot the front ski, unweighted right into the fall line. Rise, untelemark, pivot – in one continuous movement. The flexible boots, and light weight skis make this easy and reliable.  The important technical point is to keep ahead of the skis, and never get behind.   Drive down the fall line with your outside hand.  
Once in the fall line, you're in good shape, even in very difficult snow.  It's easy to telemark out since pressure on the skis is steadily increasing as you turn and that helps bend the skis.  This is true even in breakable crust.  The skis cut through it like knives.  
It's harder to scrub speed with the narrow skis than with wide ones and it's also harder to handle speed.  You've got to pick a different line, one that's always turning, and keep turning until the speed is what you want.  
If the snow has multiple layers, or a negative density profile, then it becomes difficult to apply steady pressure to the ski to bend it out.  Since there is not much sidecut, the ski will not want to turn smoothly.  A bigger, more shapely ski, does better.  There is a tactic that works with Glittertinds, though.  That is to use the synthetic sidecut created by the angle between the two skis of the telemark.  
Now, when you initiate the front ski into the fall line, you don't get on it and pressure it right away, but wait for the two skis to come together into a telemark and pressure the whole construction.  This generally works, but is harder to do, and not such a supple form of skiing as carving into the tele with the front ski.
 
Glittertinds ski well, even great, in shallow powder, powder on a base, or powder with a strong density profile.  They do not do so well in deep, unconsolidated new snow without a positive density profile. 
 
Then they want want to ski deeper without bending enough to turn well and, if the slope is shallow enough to be safe, without sufficient speed for enjoyment.  I don't have a secret for this situation.  Just keep weight on both skis and don't turn much.  Of course, touring is not so good in any case in such conditions; danger is usually high on any slope steep enough to be interesting, and travel is difficult.
 
I have only tried the XA8, Glittertind combination a few times at the downhill area and, while enjoyable and educational, it was not remotely close to skiing with a bigger ski and boot.  Speed is not its strength.  
If the snow is packed or hard, Glittertinds parallel reasonably well.  Not like slalom skis but safe enough and easy enough for most backcountry uses.  If the snow is both hard and rough, as in frozen suncups , then it is hard to keep a steady pressure on them, hard to keep them turning smoothly, and something else could be a lot better.  This is where they are weakest.

So what have I gained and what have I lost by going skinny for backcountry?
 
Gain
The skis are narrow enough that, with the XA8 boots, I have good edge control, even on a hard surface.
Skiing flat, undulating, or gently uphill is fun and fast.
The boots are excellent for hiking, and the skis+bindings are light
(2.3 kg) and easy to carry.
The equipment, plus the proper technique, is strong enough to reliably make linked turns in very difficult snow conditions.  The rate of crashing is no higher than with other outfits.
In good conditions, the skis turn beautifully.  Sometimes they seem to twist like snakes.
The narrow skis are good for climbing or traversing sidehills.
In appropriate snow conditions, the outfit skates well.  This could be useful, for example, in the Sierra in spring.
The binding is light, step-in, and naturally has a touring pivot.  It is more convenient to use than any other binding.
The binding's always-on touring pivot, plus the floppiness of the boots makes the system intrinsically safe.  There is no back seat to use for ACL stressing recoveries.

Loss
Speed capability is low.  This is relative, of course.
Both deep powder and deep glop are slower and more difficult.
Forget the ski area.
More difficult in cut up snow, multiply layered snow, or unconsolidated snow with a negative density profile. With a fatter ski you might be flying higher in an easier layer.  Less pleasant in frozen rough snow.
Be prepared to telemark almost everything.  Parallel is only rarely the turn of choice.
Conclusion
The world is not clamoring for skinny backcountry skis.  But I'm convinced that, at least in the form of the Glittertind + strong system boot,  they can form a workable, useful system with some major strengths where AT, heavy tele, or splitboards are weak.  I wouldn't hesitate to use them on a Ptarmigan Traverse, July Mt. Olympus ski, or Sierra High Route. Skating + turning in the Sierra could be extraordinary.  The same for the high plateaus of Colorado, Utah, and Arizona.
© 2012