Teleboot Extraordinaire
When it comes to making turns, even this old leatherneck is finally admitting that perhaps the foundation of the best plastic tele boot ever designed was the first all black T1. That was around 1997, the 3rd version of the Terminator. The T2 had just turned blue and that was the boot a lot of us had been waiting for.
It could be argued the black-on-black T1 was overkill – except for the guys who knew it was the future – because skis weren't fat enough yet to require it. The '97 T1 showed us all just how big you could go with heavy telemark, and
that
was only the tip of the iceberg.
Which is why the current T2 Eco, a descendant of the black Terminator and a clone of the T2X, but with a pebax based on plant oil, not the petroleum variety, is my fave boot. It is big enough to drive fat skis, but small enough to make touring a delight, not a sufferfest. And it keeps the same power and flex properties, albiet improved from the original T1, thanks to an articulated bellows, refinements that come from multi-density shells, metal buckles, and moldable liners. For super phat skis it's a tad weak, but you can always equalize that equation with an Axl underfoot.
Mostly I like it because it fits so darn well. I can make other brands work, but either they don't have the same smooth flex, or they take too much effort to fit properly. When it comes to fit and performance Scarpa offers both with a modicum of effort.
The fit is made easy by an instep strap that can really hold my/your heel in place. Because of a low-instep my heel can lift pretty easy unless the space between it and the inside of the shell can be dramatically reduced. Scarpa's instep strap does the trick, and can suck up a lot of volume. If, on the otherhand you have a high-instep, Scarpa can accommodate you, but you'll probably have to set it on one of the last teeth of the strap.
Another reason for a good fit is the adaptability of the liners. The T2-Eco comes with a tongued liner. It uses three densities of foam to provide power and comfort in a thermo-moldable package. It comes with a ribbed sole for basic grip while ambling around a hut aprés ski. There's a lot to like about this liner, thank you very much, but I'll stick with an overlap style 'cuz of my low instep volume. I wish I could use the tongued variety, and can, but it takes a lot of foam to fill the vacuum above my instep as well as an overlap liner does.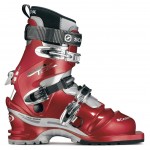 Is there anything not to like about the T2-Eco? If you want lots of muscle around your foot this boot doesn't use or promote the use of steroids. As a mid-weight boot it can throw some tough punches but requires more than brute force to drive in all conditions.
On the tour end of the scale it's in the best of class for what is available in the telemark boot world, but barely holds a candle to touring boots like a Salomon X-Adventure, or more embarrassingly, several AT boots. Those include Scarpa's own F1, Maestrale, and Gea with a cuff range of motion in the 40° range. The tele world is stuck with less than 20° on a good day, made more bearable with low cuffed boots like the T4 but still not in the same league as stiff soled alpine touring boots. Not to mention an entire line by Dynafit based on the TLT5 cuff and Garmont's new PowerLite series, both with 60° of motion. That might be a marketing figure but is still way more than the tele world offers.
I'll admit the limited cuff motion is bearable on most days and only becomes noticeable with extended flat zones. I don't miss the lack of power compared to a T-Race or a Push, I've skied some pretty heinous slopes with far less power, but I'm always butting up against the back of the cuff when skinning. Overall though, it's the best there is for a mid-weight boot that won't suck too much energy on the climb and still has enough power for driving whatever line you take back down.
Is there much difference between the T2X and the T2 Eco? Beyond the change in the pebax formula, the buckles have been improved – the top buckle has a touring tooth that won't easily let go – and the power strap is thicker. Other than that, not much has changed. As ever, some of you might think you need more buckles, but really you don't.
Scarpa
T2-Eco
MSRP: $599
Weight: 3 lbs., 7 oz. (1570 g) per boot (mondo 27.0)
Size range: Mondo 24.5 to 32.0
PS: Thank you Scarpa for getting rid of the cliché eco green next season.
© 2012