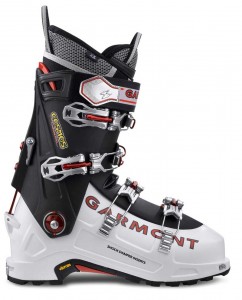 Garmont will be introducing a new series of Alpine Touring boots for next season aimed at true backcountry skiers, the kind who demand high performance going down and uphill. Four models will be available, the 4-buckle Cosmos and Celeste, along with the 3-buckle Orbit and Nova boots (mens and women's respectively).

Most of the features listed in the press release indicate this is the sort of progression in design and functionality you would expect. Garmont did a bang-up job of recognizing early on that to pull more people out-of-bounds they had to provide downhill performance on par with resort boots. Weight was a key component to acceptance of these boots, as exhibited by their Delerium.

With the introduction of the Radium though, Garmont signaled they hadn't abandoned core turn earning skiers and they up the ante with the Cosmos and Orbit in the Power-Lite series. Borrowing elements from their welter weight Alpine Lite series, the shells will be built from Grilamid, a thinner and lighter but stronger PU based plastic. Overall stiffness of the shell is rated at 125, meaning it isn't the stiffest boot on the market, but it's hardly soft.
The EZ Fit Liners will come pre-shaped to placate those who insist on their boots fitting well out of the box without the benefit of thermo-molding. The liners remain moldable for those who know better.
Weight is in the mid-range, not so light that it compromises confidence, but light enough that it saves energy on the climb.
Where these boots really improve the touring side of the equation though is with a cuff that delivers a 60° range of motion in walk mode. Key to this claim is a patent-pending dual-hinge system that allows the cuff and locking bar to both pivot, allowing uninhibited motion throughout the full 60°. All other boots provide increasing resistance as you approach their limits.
Prior to Garmont's new Power-Lite series, if you wanted that much range of motion in the cuff for touring you needed to use a rando-race boot and accept some loss of downhill control. I can't wait to see this cuff system proved out and get incorporated in the Voodoo, Prophet, and Kenai.
© 2012