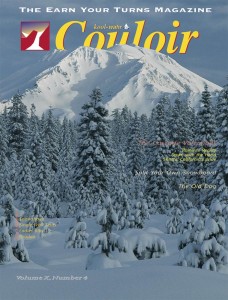 Perhaps the most common reprimand that I hear comes from Shasta county locals fearing we'll make Mt. Shasta more popular than it is. The thought that a little rag like this could have that much influence is flattering but absurd. Instead, I have a theory that the flaming cross on my front lawn carries deeper significance: Mt. Shastas' local mountaineers are afraid to acknowledge that their hill has already become so popular that its very popularity is part of its allure.

For a mountaineer it is hard to resist the charms of Shasta, or its sister peak, Shastina. As a downhill mountaineer though, it is darn near impossible. In fact, you could convince nearly any serious glissehead that it is one of the ten best destinations in the world, but I'd go so far as to say it is one of the five best. Despite not having much experience outside North America let me make the case anyway.

For starters, lets talk vertical. A good healthy day for most ski mountaineers is somewhere around 3,000 vertical feet of climbing and skiing. Peak descents in the Rockies range between 3,000 and 6,000 vertical feet, the eastside of the Sierra regularly serves up 5,000 vertical feet but Shasta always offers 6,000, usually 7,000, and sometimes as much as 8,000 vertical feet. Keep in mind that Jackson Holes' tram-served 4192' vertical feet will turn your legs to jelly in a single top to bottom run, so imagine almost double that. Then add the fact that you have to climb it first, typically an eight to 10 hour climb.


There are few noteable places in the world where you can exceed this, but in every case the objective hazard level is much higher. The biggest skiable face of all, the Wickersham Wall, off Denali's north peak, delivers 14,000 vertical feet of endorphin rush, but you have to survive extreme cold, out-of-this-world remoteness, an altitude of 19,700', thousands of crevasses and, of course, avalanches. Mont Blanc, in France delivers a 12,000 vertical foot run, but again, you have to deal with the seriousness of big mountain weather, and crevasses. Nanga Parbat, in the Himalaya, offers the largest vertical face in the world, but its skiability is questionable, and it has a much more serious altitude factor. Mt. Rainier, another Cascade volcano delivers 8,000 vertical feet on the Emmons Glacier route, but, again you have those pesky crevasses and a preponderance of crappy weather.
Shasta has all the hazards of big mountains, which is part of its allure. The difference is that you can usually chose whether or not to expose yourself to them. As such, it is a great training ground for bigger projects, with the caveat that you are still subject to the whims of big mountain weather, a capricious thing at best. In terms of shear volume, 80 cubic miles worth, Shasta, in combination with its sister peak, Shastina, is the largest (not the tallest) volcano in the lower 48 states. With a summit elevation of 14,162' feet it has no problem creating its own weather, a point that is magnified all the more when you consider that it rises over 11,000 feet from its surroundings.
Despite Shasta's ability to regularly concoct its own brew of northwestern nastiness, which usually results in a fresh coat of snow even in August, let us not forget that it is located in the sunshine state. So in between spells of weather there are plenty of blue skies and relentless sunshine. Only the Sierra Nevada rivals Shasta for better weather, but then, what else did you expect from California?
Key to the ability to chose your own level of danger on Shasta is the multitude of trailheads available. Most mountains have one trailhead, sometimes two, but even if there were more, the ability to approach the mountain is limited by neighboring peaks. With Shasta, theoretically you can approach from any angle, all 360 degrees worth. Though there are nine driveable trailheads, only six are practical for most vehicles. The point is, you can reach the summit from every distinct face the mountain has to offer. Each route offers a different experience, unique in their mixture of snow, rock and ice formations, but similar in the fatiguingly flat approach down low, to the relentless pitch up high and the unparalleled view from the summit.
Like many other volcanoes, Shasta is its own mountain, meaning it is a solitary monolith, not one of several high points nestled in a range. This solace is even more pronounced than the other Cascade volcanoes. On a clear day you can see over a hundred miles in every direction from its summit, including views of the Trinity Alps to the west, Mt. Lassen to the south, and Mt. McLoughlin to the north. But they look so small from Shastas apex, and the variety of landmarks pales compared to views within a range, such as the Tetons, or even other volcanoes, such as Mt. Hood where there are so many other peaks visible.
More so than any other peak in America, Shasta has a personality which manifests itself in several myths and spiritual faiths whose histories are centered here. The result is a peak whose popularity draws from more than the mountaineering community, and one that compounds itself annually, with no apparent attrition in sight. Which is the only negative worth mentioning. Up to 15,000 people walk upon its slopes each year, with a resulting ecological impact that is potentially huge. It is no wonder that Shasta was among the first wilderness areas requiring a use permit fee. Hopefully it will help fund a reversal of the impact.
The challenge and seriousness of big mountains is a key appeal for alpinists. When you move into the arena of the downhill mountaineer though, the fun factor that results from the rush of
glisse
tempers the importance of challenge. It isn't negated, but an ascent no longer has the ultimate bearing on the success of a trip. Making turns and eliciting that perma-grin becomes the measure of success, combined with the sense of accomplishment that the alpinist knows.
Shasta has enough elevation to make reaching the summit a true test of determination and aerobic capacity, and so much descent that your quads will cry out for it to end long before it will. When you get back to the trailhead your legs may be fried, and your back aching, but you'll probably have a smile on your face that even a fatigue induced stupor can't hold back. You may not be able to say it, but that grin will be another testimonial that Shasta reigns supreme.

For the latest conditions on the mountain stop in at The Fifth Season in Mt. Shasta City, or call their 24-hour hotline at 530-926-5555.

© 1998