It's official. Rottefella is turning up the heat to motivate telemark skiers to switch over to the new telemark norm they pioneered by offering a $100 rebate this fall. The rebate is an attempt to overcome the high cost of switching to the NTN system because it requires buying a new pair of boots and bindings with a retail cost of over a thousand Yankee dollars.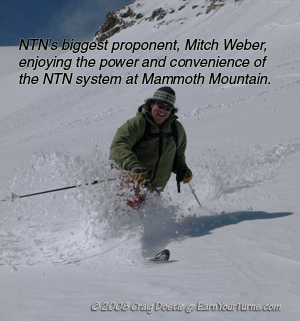 The new system promises a lot of features that telemark skiers have requested for years in a single package. It is powerful, adjustable, has a free-pivot touring mode, is releaseable, and while not exactly step-in, allows you to get in and out of the binding without bending over to latch a cable to your boot. It delivers the most lateral control of any telemark binding on the market, and since NTN compatible boots have Alpine Touring standard dimensions at the toe and heel (meaning no duckbill) they can work in AT bindings too. Scarpa's NTN boots come with Tech fittings so they will work with G3's Onyx or the complete line of Dynafit bindings.

With all these features one wonders why more people haven't made the switch.
Two factors have worked against widespread acceptance. First, there were flaws with the system the first two years. In the first year consumers indicated the system was too stiff for making telemark turns. With some adjustments by Rottefella and boot manufacturers that complaint was nullified. Year two, Scarpa boots were cracking. Year three, no problems, but rumors of trouble lingered.
Secondly, there has been a simultaneous worldwide economic contraction. Combined with the fact that the cost of switching remains high since it requires buying a new pair of boots and bindings, sales have been slow. Even so, there has been growth. Garmont USA president, Gordon Bailey said he had to "reorder bindings from Rottefella three times last year to keep up with sales."
In order to reduce the cost of switching over, Rottefella is offering a $100 rebate to anyone who buys a new pair of boots and NTN bindings between October 1, 2010 and January 31, 2011. The rebate will be mailed as a $100 Visa gift card to US customers, or as a $100 US cheque for Canadians. To obtain the rebate, customers must submit a receipt as proof of purchase along with the rebate form. Rebate requests must be received by the rebate center in Douglas, AZ before March 2, 2011.
This still doesn't make the cost of switching as easy as upgrading you boots or your bindings, but it certainly helps. If you're not sure about whether it is worth switching over you should try before you buy. NTN manufacturers are teaming up with Telemark Skier Magazine to provide a demo tour this year. Not all the venues have been determined, but a few have been nailed down so far.
NTN Demo Tour Dates and Locations
2010, Nov. 20-21 – Loveland, Colorado
2010, Dec. 4-5 – Alta, Utah
2010, Dec. 11-12 – Jay Peak, Vermont
2011, Jan. ??-?? – Killington, Vermont
2011, Feb. ?? ?? – Alpine Meadows, California
Dates at Killington and Alpine Meadows are unknown at the moment. I'll correct those dates as the information becomes available.