A few of you have noticed that I'm starting to make a bit of progress with filling this site out with content related to backcountry skiing. To that end, I'd like to start compiling a listing of great sites that post good trip reports. There are a ton of them out there so if you know of a good one, please post a link to it in a comment below and I'll start adding them in.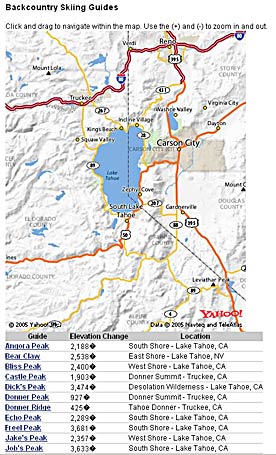 To kick it off, I thought I'd start with Mike Schwartz, the owner of The Back Country in Truckee. Not only does he have a shop with all the toys we love to play with (skis, bikes, kayaks, climbing gear, etc.) but he uses them himself on a very regular basis. From the outside it appears he is doing a stellar job of balancing work, play, and family. Put another way, I wish I could get out and ski, climb, bike as much as he does. As proof, check out his website, in particular the forum. He calls it the message board, but it's forum software. There are tons of trips posted throughout California, but especially the Lake Tahoe area and the East Side. Mike is the author of a majority of the trips listed. Even though he won't claim to be a pro photographer, he takes excellent shots which make you drool with envy, or anticipation, for going there yourself.
Looking for beta on places in those regions? Read the accompanying descriptions with lots of local tips on which fork to take to get to the goods. It's all at thebackcountry.net's message board. There is also a Tahoe specific guidebook for backcountry skiing around the big lake. If you have never toured in the area and need specific info on trailheads and typical routes, this section provides downloadable topo maps.
The Back Country is also a good place to get your gear, especially if you want a little advice on which piece to get. Mike's tried 'em all and knows what folks they work best with. He does an excellent job of boot-fitting too. You might find some gear cheaper elsewhere, but you'll be hard pressed to get any better personal advice or boot-fitting included when you buy boots.
Don't forget, leave a comment with your faves below.