However, that disparity in pack quality is about to be eliminated. In the wake of several high profile avalanche accidents in February 2012 demand for ABS packs stripped retailer shelves bare and they were forced to begin shipping next years models now. With that came the recognition that ABS finally has a solid hit with their Vario25. Maybe not a homer, but a triple or at least a double.

As the name implies it holds, not barely but easily, 25 liters of stuff. Room for a shovel, probe, repair kit, first aid kit, food, water, clothing, goggles, and an extra who-haw or two. It has two main compartments, one next to the frame with a U-shaped clam shell zipper giving easy access to everything when opened. Next compartment on the back of that is accessed from a clamshell zipper that only goes part way down, but is positioned so it opens up like a top lid giving access to the main compartment like a semi-top loader. Finally there is a stash pocket with zippered access on the top. All the zippers have nice, double pull tabs.
Daisy chained webbing adorns either side for strapping skis, a snowboard, ice axe or whatever else to the back, but you need to get creative on your own to make those attachments work well. Side straps to compress the pack when half loaded, or to carry skis A-frame style are unfortunately absent, a consequence of needing the side panel free from clutter so the airbags can inflate without interference. Another side effect of the airbags is the straps securing the pack to the frame at the top and bottom of the pack overlap the access zipper to the first compartment. Just put the zipper pulls on the side so you can still access it without undoing the straps.
Where ABS remains a clear winner is in the airbag department. A cylinder of compressed nitrogen is what drives the inflation of the airbags. These canisters are sealed and can only be discharged with the pyro-technic trigger that pierces the top, letting the compressed gas out. That trigger is easily disconnected so it can't be accidentally discharged while traveling, and is held fast by a Velcro™ strap so you don't accidentally pull it when you're wearing it.
When activated, an airbag on either side of the pack is deployed and inflated, giving a redundancy to the system in case one should be punctured. It is even possible to add a radio controlled group trigger so that someone, like a guide, can remotely trigger your airbag should you be caught and unable to pull it yourself.
Last but not least, if you want an airbag pack, maybe two different sized packs, the ABS Vario System will let you do that. One of the driving forces behind the decision for ABS to create their Vario line was to be able to have multiple airbag pack sizes without having to buy multiple airbag systems. With the Vario system the airbag plumbing and hardware is housed on a pack frame that various sized packs can be attached to via a circumferential zipper and a few reinforcing straps. The frame includes the shoulder straps, metal buckled waist belt, and leg loop. All the important stuff is there and well built. And in case you're still not enamored with the packs ABS has designed to go with their Vario frame, Da Kine will be offering a series of packs that mate with the vario frame next fall.
As with every airbag pack, the extra weight of the safety hardware feels heavy when you lift the pack, but is easy to bear on your back.
It is hard to argue against the ABS Vario system. To date, the only serious complaints revolve around the quality of the packs available. That changes this year with the Vario25. It is large enough for a day pack, well suited for going hut-to-hut, and it packs simply and easily. It has two large compartments, one with a full clam shell zipper, and the larger of the two with a half-shell zipper, making it a semi-top loader. Plus a fast access utility pocket. And airbag hardware you can count on. Ah, but quality does come at a price. You're worth it though, aren't you?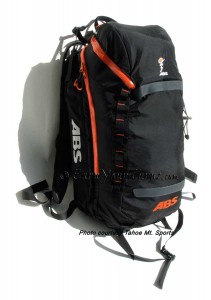 Successful survival of avalanche with ABS pack.

Dealing with the TSA to fly with your ABS
(page 2)

ABS
Vario 25
Pricing: Vario base – $995,
Activation Unit (Canister + Trigger) – $150,
Vario25 Pack – $129,
Recharge canister – $30.
Weight (Vario base+Vario25 pack+canister):
7 lbs., 1 oz. (3.2 kg)

© 2012

Although other airbag packs have arguably equaled ABS, ABS is still the standard by which all other airbag packs are judged. To date no one has been able to say they have built an airbag system that works better than ABS. But the packs themselves have consistently received lackluster praise while competitors have clearly been able to design packs that fit the American's backcountry mindset better.