As soon as I was introduced to Black Diamond's Z-Pole concept I was thinking how appropriate it would be for snowboarders. The only problem was, the baskets that came with the Z-Poles were too small for anything but corn snow. That and the fact that the tips were manufactured in such a way that replacing the baskets would not be as simple as just popping them off and replacing them with a different one. That was back in August 2010, at the Summer Outdoor Retailer Show.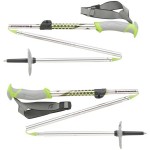 Six months later at the Winter Outdoor Retailer Show BD came through with their new Compactor ski poles, made specifically for backcountry snowboarders. Using the same Z-construction the Compactor pole easily folds down into a connected, z-folding package only 16 inches (41 cm) long. Overall length adjustment is achieved in the upper section with BD's classic FlickLock™, allowing the pole to vary in length by 7½ inches (20 cm). The tip is a typical ski pole tip with a metal point. The basket is replaceable and upgradeable to a larger powder basket.

If you're a backcountry snowboarder, these poles should be on your list of must have items for next season (11/12).

Next on the wish list, a Whippet version of the Compactor. Pretty please for winter 11/12?
Black Diamond Compactor Ski Poles
MSRP: $ 119.95
| | | |
| --- | --- | --- |
| Size: | Standard | Large |
| Length (extended): | 105-125 cm, (41-49 in) | 115-135 cm, (45-53 in) |
| Length (collapsed) | 38 cm, (15 in) | 40 cm, (16 in) |
| Weight/pair: | 580 g, (20 oz.) | 595 g, (21 oz.) |