Despite the fact that we didn't even arrive at the parking lot until 11am, Sugar Bowl's sidecountry terrain remained untracked. That would soon change.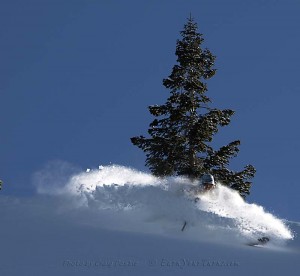 Last week the January dry spell was broken when the heavens dropped over 8 feet of snow at the higher elevations in the Tahoe area. Before the dust had barely settled from that storm, two more feet covered an already phat base yesterday (25feb) and the night before.

Predictably, the 24 hour rule had most backcountry skiers playing it safe, but the Sierra Avalanche Center was surprising honest, calling for only considerable avalanche danger and pockets of high. Having personally removed it from the driveway, we knew it had come in right side up, bonded well, and barring any unexpected pockets of wind sculpting, most slopes should be good to go.

We all had other things to do. With only 1mm of life left, my brake pads needed replacing. Our neighbors, Sunmie and Brian were talking about catching up on work, but days like today are the reason we all live in Tahoe. With a phone call Brian and Sunmie were able to take the kids to Grandma's and in an hour we rendezvoused at The Back Country with another neighbor, Aaron, then headed for the Sugar Bowl parking lot.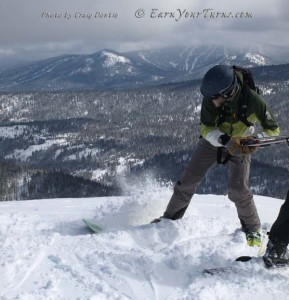 I was surprised to be breaking trail from the top of the Judah chair, but certainly didn't complain. That meant we were ahead of the curve and competition for freshies would be minimal. We met up with Logan Talbot at the top, a local guide who works for Alpine Skills International. Probably out of habit he asked if we all had beacons.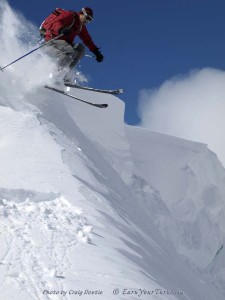 We all started making light of his comment, saying things like "I don't use those anymore, they're too heavy" and "it's not working, I'm using the batteries for my mp3 player instead" until we heard a deep crack and looked up simultaneously to see Logan jumping back from the edge of the cornice that had calved off eight feet back from the edge. Logan happened to be standing about 9-feet back. Obviously, as a guide, he has a very calibrated sense for how far back to stand on a cornice.

After trying unsuccessfully to get it to crack again, though we did manage to get it to speak in that deep, deadly voice once more, we peered over the edge and noted that, although it had run about 500 feet, it didn't cause anything else to break loose and rip. We nervously agreed, it was safe. Before long, we had all left deep signatures to the bottom of Mt. Judah's east face.

That was too delicious to leave yet, so we set a quick track back up for another lap and the beginning of a run to Donner Lake. Two hours and plenty of face shots later the Prossor neighborhood tele posse agreed, today was the best day of the season.