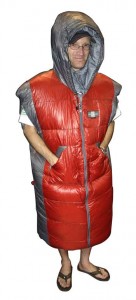 Last fall Exped's US marketing manager Kaj Bune sent me an email with a YouTube link. I'm a big fan of Exped's down sleeping mats, but not a big fan of YouTube links and recommendations in emails, especially when there is a known marketing message involved. So I decided to call and harass him for cluttering my email with that junk. Kaj laughed but insisted I "check it out." He admitted it was completely off the wall, but worth a few minutes time. So I did.
What a bunch of kooks! In this short vid Kaj Bune and Ted Steudel show up at a ski resort, then proceed to make turns and turn heads dressed in their Dreamwalker sleeping bags. Okay, it's comical and he got my attention.
When I swung by the Exped booth at the recent summer OR show I had to ask Kaj to give me the real lowdown on the nutcase sleeping bag. It turns out this isn't a new idea for Exped. The original concept was first introduced in 1998 as the Wallcreeper, something obviously aimed at adrenalin crazed climbers but not for more normal people. Or so I thought until Kaj took the time to explain.
In a nutshell, how many times have you wished you could wear your sleeping bag when you had to get up at three in the morning to take a leak? Instead, you probably lay awake for an hour hoping your bladder could hold on until dawn, then gave up, left the warmth of your bag to endure a few minutes cold for some relief. Or how many times have you sat around camp with your sleeping bag wrapped around you but there was always a gap where the cold crept in? Or you simply didn't want to leave the warmth of your bag to get breakfast going, so you didn't leave on time and didn't make the summit. The list of examples could go on and on.
The Dreamwalker is a rectangular shaped, down-filled sleeping bag with a hood, a full length zipper, zipper slots for your arms, and a cinch cord to seal the bottom. Want to read before nodding off in your tent, or you forgot something in our pack? Just stick your arms out. Need to move around? Loosen the cinch cord at the bottom, pull it up to your waist, re-cinch and let it fall to your calves, add shoes and walk (or ski) wherever you please. It's only kooky compared to the silly way we accept the limited functionality of the ubiquitous mummy-shaped sleeping bag.
If you're like me, you've been dreaming of this bag for years – and just like me I'll bet your first impression upon seeing one is – this is a crazy idea. From here on out though every time I go camping I'm going to find moments when I wish I had one of these. The final bit of functionality that makes this a must have item is the rectangular shape and the full-length zipper. The rectangular shape means I can sleep with my legs apart, a limitation with mummy bags that has frustrated me forever. That's a nice feature, but it's only half of why this bag is on my must have list now. With the full length zipper the entire bag can be unzipped, turning it in to a down comforter for two. That's a feature my wife can get behind too.
There are three models of Dreamwalker, two down and one synthetic. The synthetic version doesn't have the arm holes, so it really doesn't qualify as a Dreamwalker. The down versions use 650 fill down. Not the loftiest down available, but 650 fill is still premium quality and better than any of the old down bags in this kids personal collection. It's plenty warm without having to pay top dollar for state of the art loft properties. Draft tubes insulate and prevent leaking around all the zippers. The shell is a lightweight ripstop nylon. They come in large and medium sizes with temperature ratings around freezing.
Dreamwalker 650
Weight: 50 oz.
Rating: -6C/20F
MSRP: $355
Dreamwalker 450
Weight: 41 oz.
Rating: 1C/35F
MSRP: $300
Exped's website here.