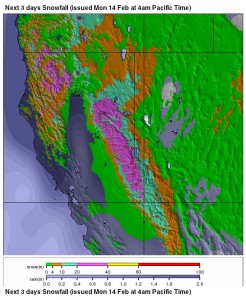 It's been over six weeks since La Niña gave California a good pounding. She gave us a nice 10-inch resurfacing three weeks ago. Despite that, compared to the regular dumps the ten-11 season began with, the last six weeks were beginning to feel like the familiar dry and blue skies of drought times.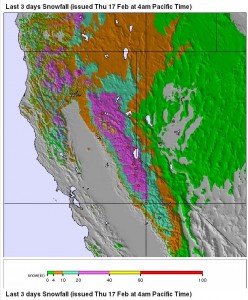 The Sierra Nevada range tends to act that way. Huge dumps with long periods of sunshine in between. I'm used to a dry spell every January, but this time it had gone past feeling like spring. The sidecountry had become downright hideous, a combination of sun cups with sun rotted ruts kept frozen solid from a wind that refused leave us alone, like late season sun cups only worse. If you wanted good snow you had to be willing to hike a little further to get away from the tracked up mess the Tahoe sidecountry had become.


Those conditions ended this week. Tuesday morning started with clouds hovering on the windward side of the Sierra crest, but the clouds and snow didn't break through until dusk.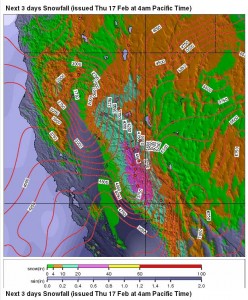 Snow-forecast.com predicted around 10 inches at lake level, with up to 20 inches above 7,000 feet (2100 m) by the 15th. Truckee awoke to, not ten, but a solid 24-inches of fresh snow Wednesday morning. Thursday morning brought another 18 inches, plus an additional foot during the day with still more coming Thursday night, Friday and Saturday. No serious breaks until Sunday, maybe.

If you're planning to ski this holiday weekend (President's day), prepare for long lines, starting in Sacramento as you head up I-80, and continuing at your favorite chairlift. Bring the fattest planks you've got, goggles, and a snorkel. Expect avalanche hazard to be high to extreme nearly everywhere outside the boundaries of lift accessed terrain. Don't forget to use your avy eyes and be sure to ski with a buddy, in or out of bounds.