At the recent Outdoor Retailer Winter trade show Voile introduced a new version of their Switchback, the Switchback X2, with enough power to drive big skis with big boots. One can say that the existing Switchback does the same, but few will argue it is easier with more horsepower under the hood. The Switchback X2 uses the same basic ingredients of a unitary, stainless steel, wrap-around toe piece but with longer sidewalls and a cable attachment over an inch further back.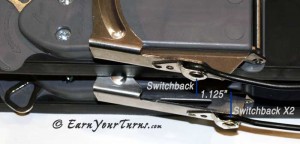 A few years back I tested a modified SX2 binding with the cable attachment moved back about a quarter inch. The difference was noticeable, but not dramatic. With the Switchback X2 it looks like Voile recognized a little bit more power is good, but some people want a lot more.
Besides moving the pivot point back 1.125" (28.6mm) the Switchback X2 will also use a different set of spring cartridges that, according to Mark Christopherson, Voile's production manager, are 25% to 30% stiffer. Due to thicker coils on these beefier springs the cartridges may be a bit longer to allow for enough compression without bottoming out.

The final revision to the bindings is to the heel lever on the cable assembly. New dimensions and a stiffer plastic will make this heel lever latch on to the heel of a boot with a stronger snap, and won't bend at the top when you try to pry it off with a boot. If you over tighten the cables, the existing heel lever can bend before popping off. The new heel lever is now on ALL Voile cable bindings.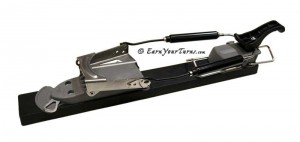 Though it is not in production yet and thus subject to change, Voile says the Switchback X2 weighs 1456 grams, or less than 3¼ pounds per pair. That's including all the screws and plastic caps for the holes. A tad heavier than the regular Switchback as you would expect, but still significantly lighter than its targeted competition (BD's O1 & 22 Design's Axl) who tip the scales closer to 4 pounds per pair.
How does it perform? With the same chassis as the Switchback, you can expect a hassle-free 50° range of motion for touring and little to no icing issues. According to Josh Madsen, editor of Telemark Skier magazine, they're on par with a Hammerhead in position 4 (HH4) using a pair of T-Race boots. This sounds very encouraging.
The only bummer is the continuation of Voile's standard heel post with two climbing pegs, high and higher. Most people like the dual-height option so this isn't a serious bummer, but the posts are relatively hard to engage compared to spring-loaded pegs like the Hammerheel or G3′s climbing post.
With a side-routed cable assembly I'm betting the Switchback X2 could provide the best of two worlds. Plenty of power for controlling big skis or staying upright in difficult conditions, yet with a smooth engagement of that extra power for a light ride in light pow.
Looking forward to confirming this personally.
© 2011
Field comparison of Voile Switchback X2 vs BD's O1