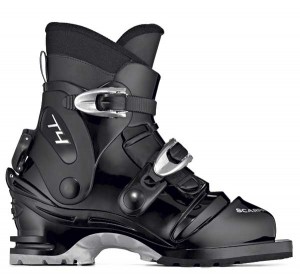 The annual Outdoor Retailer Winter trade show has come and gone again. The most encouraging news to report is the return of Scarpa's T4 and a resurgence of interest in light telemark gear.

According to some manufacturers, it accounts for as much as 25% of the market for telemark gear. T4 isn't the only sign of new products for tele light. Lest you think the demise of Karhu was the result of chasing a misguided dream with their XCD Guide, do not be fooled. That was merely an accounting decision to save the cost of licensing the brand.
It's not like K2 or Madshus couldn't sell more skis without Karhu in the way, right? So the core of the Guide lives on as the Madshus Annum with new graphics.
Nor is that the end of the options seen for tele light next year. Along with the return of Scarpa's Tourminator 4, Fischer will add the 78mm waisted S-Bound 112 to their metal-edged waxless line. Fischer's trademark crown pattern is known for excellent grip, so it will be interesting to see how much drag this wider version creates on the down.
Perhaps not nearly as much drag as the Vector BC with a 96mm waist from Voile, the first super-phat touring ski. Some of you are thinking "that's not super fat, super fat skis are at least over 100mm wide, not less than." In the downhill world that's true. Not in the touring world, not with a waxless pattern for grip and metal edges for turns. In that world, the Vector is king o' the phatties. How well it climbs remains to be seen, but it seems reasonable it could climb better than any other patterned ski by virtue of the increased surface area of the pattern.
Besides the T4, Scarpa will continue to offer a leather touring boot, the Wasatch. If you simply refuse to mooooove off a leather platform for tele, Scarpa has your boot. Keep in mind though, the T4 is not only warmer, dryer, longer lasting, and a better turning boot, it's also $90 cheaper, retailing for $279. When Scarpa dropped the T4 and T3 from their offerings in America, it was because the target consumer couldn't justify spending $300 for a pair of touring boots. The average touring customer wanted their boots in the $150-$200 range. Since then $279 for good walking AND turning performance doesn't sound so unreasonable anymore, especially when it has the torsional rigidity to drive fatter skis that leather lacks. I hope Scarpa does well with sales of this boot as I'd hate to see it go away again.
There is another potential upside to the renewed interest in telelite – the opportunity to wean the terminally timid off of
slow
shoes and onto a rig that is easier to balance on than the typical skinny cross-country platform while keeping the glide in your stride.
© 2011