© 1994
May 24, Summit Day
Departing the all–too–familiar fester dome at 12:30 p.m. we were stalled by howling winds and an upper peak lenticular. Three hours later we loaded up and set off in calm winds with the lightest packs we'd carried. Cramponing up the final 2900 feet unroped on firm saastrugi was a pleasant, low-energy change. From the summit plateau we feasted our eyes on tasty views of Foraker's Sultana Ridge, Pink Panther, and Northwest Face lines. Hunter's disparate summits peaked out, and the Kahiltna Glacier and Little Switzerland's jagged peaks provided the background.

We saw parties above Denali Pass and later discovered that our partner, Bill Stevenson, had restored himself to good health and reached the south summit, solo, in a mega–push from 14,300′, on May 24 as well.
The wide–open flats between 18,100′ and the summit ridge beginning 500 feet higher were bizarre. Saastrugi was formed into a surreal texture with up to three feet of relief. Table–tops with rock–hard snow towered over valleys of softer wind deposits. Some mesas overhung, forming corners which we broke off and used for route markers since we were out of wands and whiteout looked imminent with dark clouds boiling to the east and north.
It didn't take long to reach the north summit ridge which carved a beautiful arc against the deep, piercing blue sky, and by 10:25 p.m. we got to the end of the interminable crest. The Ruth Glacier was bathed in that magical, shadowed, orange glow of an Alaska Range "afternoon." Dark mists enveloped the Wall a mere 3,000 feet below us and we could only peer southeast toward the Moose's Tooth, Barrill, Dickey, and endless unnamed jagged glacial cirques for a few moments before the chilly wind threatened our noses with frostbite.
The cold was taking its toll so we basked in summit glory only fifteen minutes. Crampon points were interchanged for ski edges and we took off, hugging the ridge for a few hundred feet before dropping down the west face. Through sugar–textured saastrugi we skidded, skated, carved, snow–plowed, and cross–country glided. The snow was really hard, almost blue ice in places, but with torsionally rigid, sharp–edged incisors, we could carve and maintain control.

At the top of Evelyn's Run (where Evelyn Lees fell 1100 feet in 1983) a thin cloud enveloped us. Instead of the blue ice she hit, we found good hop–turning material, with fragments of slabs breaking off and accompanying our turns. Around 17,000′ the saastrugi was again consistent and smooth. We linked as many turns as oxygen intake would allow.
Re–entering the festerdome by midnight, we were psyched. We'd completed all stages of the only sane line on the Wickersham Wall. From 5,900′ to the summit conditions had enabled us to shred all but four ropes' worth of massively exposed blue ice; two each at 8,500′, below our tower camp, and at 12,800′. We had carved up plenty of other blue–ice zones, no problem. It was a mega–success! Adrenalized and high on life, we teamed up on the cooking duties, chattering exuberantly about the day's events, the entire expedition, and what might be to come in our climbing careers.
May 25-28, Return to Civilization
The clear night brought –30° temperatures and plenty of wind, which continued the next morning as we dismantled our five-day abode and crossed over to the West Buttress. We were shocked to see the surface entirely blue, whereas it had looked benignly white from a different angle the previous day.
As we intersected the West Buttress route at 16,200′ our first encounter with civilization came as we tripped over plastic garbage sacks laden with human feces. Lovely. It was the usual melee at 14,300′: some 200 climbers hailing from ten different nations, all obsessed with the business at hand and not contemplating their impact on two refugees from outer Denali. We dropped our loads in an abandoned snow wall and began circulating. Other people to converse with. What a concept!
Bill had been there for 12 days and was glad to see our safe return. Our stories were related and we caught up on Denali news.
Still riding the mental high of our Wickersham descent, and realizing that I was as well acclimatized as one could be, I soloed the Messner Couloir on May 27 and got the most intense ski day of my young life. A captivating goal since I first saw it in 1992, it finally became mine. John declined the adventure, opting to mingle with the crowd and rest.
We escaped the crazy atmosphere of camp Denali by noon on May 28. Thanks to a Belgian team who accepted our unused food, we skied with light loads and were at the Fairview Inn in Talkeetna by midnight, where we did our damndest to party like rock stars.

Reflection
For attaining summits and skiing big lines in Alaska, weather and conditions rule your world. Random is the only word that captures the essence of it. A grizzly bear was spotted at 13,900′ on Denali this year. Random. Brian Okonek had climbable weather to 17,200′ on two expeditions a month apart on the West Buttress in 1994, spent a week in a storm and had to retreat. Twice.
Forecasting is a comedy. Four Canadian climbers descended from 17,000′ to 14,000′ because they had a chilly night and Annie's 8 p.m. forecast called for a storm system. The following day was perfect and they were at 14,300′, in no position for the summit bid.
Others before us, perhaps more blessed in talent and experience, were simply not bestowed with friendly conditions. We had to overcome our share of adversity, but the random bounce of universal luck came our way, and we will savor it forever.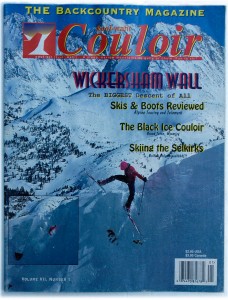 © 1994

This is a reprint of an article that was first published in Couloir VII-1, Oct/Nov 1994.
Related Posts
Wickersham Wall – Pt. I
Wickerham Wall – Pt. II
Wickerham Wall – Pt. III
Wickersham Wall – Pt. IV
Wickersham Wall – Pt. V

© 1994