Marmot's Minimalist jacket fits perfectly in the "What's Not To Like Category". After all, what's not to like about a good-looking, well-built waterproof/breathable shell for an easy on the wallet $200? Especially one made of Gore-tex®?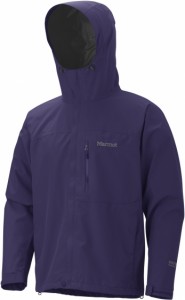 Certainly not Marmot's lightest shell, the versatile Minimalist, at 17.2 ounces for an men's XL (my weight … weighed on a digital scale), is more than light enough for long days in the backcountry winter or spring — or for that matter, summer and fall. It has a simple, purposeful design and a Gore-tex® Paclite-backed face fabric tough enough for full-on, real-world alpine weather and reasonably abusive use.

Of course, like most people, I prefer carrying as little unnecessary weight as possible when in the mountains—for obvious reasons. To that end, I also own, use, and test several ultralight W/B shells. These are great as foul weather wear when I'm out on straightforward hikes, peak ascents, biking and even skiing. However, if forced to choose and own just one shell I'll opt for a jacket like the Minimalist — with its laminated waterproof layer — every time because it's going to be, while not that much heavier, more durable in the long haul, both in the field and in the washer and dryer. This equates to better value — which in this case is already quite smashing.


Other aspects of this jacket that stood out include the cut, which is not overly "athletic" or "relaxed". It is streamlined yet layers over fleece or a light down sweater. It also has longish sleeves, which I like. The Minimalist features a coming-back-into-vogue (and well weather sealed) old school plastic "Delrin" zipper that slides up and down oh-so-easily.
While rooting around on Marmot's website fact-checking and looking for a quickie image for this review, Herr Dostie came across some negative feedback regarding the hood design—and asked me about it. I personally found the hood, while not particularly noteworthy, to be just fine. It adjusts with a simple Velcro tab. This assembly could admittedly be a touch longer which would allow the visor to project farther and flatter out over the forehead. FYI: the hood did just fit over three helmets I tried it over including the rock-climbing oriented, co-molded foam Mammut Tripod, the all-purpose climbing/mountaineering hybrid hard-shell/co-molded Petzl Altios, and the skiing and mountaineering designed CAMP Pulse (also co-molded and foam).
About the only real "fault" I can find with this shell is Paclite's smooth inner face. That which allows it to slide so easily over fleecy layers also gives it a slightly clammy and cooler "feel" when compared to W/B jackets (both coated and laminates) that utilize tricot inner face materials. Tricot linings, which are characteristic of true "3-Layer" W/B fabrics, help to break up and disperse moisture circulating around inside your jacket. This really is a minor issue though and frankly is just the nature of the Paclite beast—as well as the nature of all of the newer "2½ layer" shells (both laminated and coated) hitting the market these days. One additional cautionary thought: if you are headed into truly abusive situations or need a shell for pro use you'll probably want to move up to a shell beefier than the Minimalist. Remember that this still is a lighter-weight garment.
Marmot lists the Minimalist simply as "rain wear" Why? I do not know, as this classic lightweight is great for snowy sports too, including alpine skiing. And it obviously is going to cut the wind. Hence, like me, I think you'll find this jacket to be an extremely versatile garment and one you'll carry into the field often.
Marmot Minimalist
www.marmot.com
Weight: 17.2 oz. / 493 g (Men's XL)
MSRP: $200
Other Features: Full sized hood, PitZips, Angel-Wing Movement arm/shoulder design. DriClime™ lined chin guard, covered chest pocket, two hand-warmer pockets.